Proud Supplier of Biodiesel For Delivery
---
Sun Coast Resources LLC is a proud supplier of biodiesel as an alternative fuel delivery service. We are committed to helping our community become a healthier place to live by providing cleaner burning alternative fuels.
Biodiesel: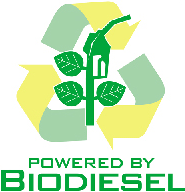 Cuts emissions
Environmentally safe
Safest fuel to use, handle, and store
Reduces compounds linked to cancer
Cleaner burning alternative fuel
Reduce oil dependence
Meets federal clean air standards
Stimulates American economy
Runs great in off-road equipment
Cuts cost of fueling
Please contact a friendly Sun Coast fuel and lubricant specialist for questions about our biodiesel delivery service, or any other diesel or lubricant products we offer.