Premier Supplier of Marine Fuels and Lubricants
---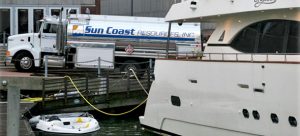 Since 1985, Sun Coast Resources LLC has become a premier supplier of marine fuels and lubricants to shipping companies along the U.S. Gulf Coast. Sun Coast's access to marine terminals, specialized equipment and strategic alliances allow us to provide consolidated services to virtually any port along the Gulf Coast.
Drawing on our extensive maritime experience, we understand the quality and operational performance your vessels require during each port of call. Sun Coast stands ready as your marine energy solution anytime and anywhere you need us!
Sun Coast Resources LLC is a Signature Class distributor of CHEVRON lubricants for the Marine Industry in both bulk and package. We service tug and barge companies with a variety of the lubricants needed for your daily marine applications. Below are just a select few products that we have to offer for marine applications.

Chevron Delo 477 20w40 Marine Oil 
Chevron Gear Compound 220
Chevron Delo Marine CFO 40
Chevron Ultra Duty 2 Grease
Chevron Hydraulic Oil AW
Chevron Clarity Hydraulic Oil
Services for the Marine Industry:
Cargo Ships
Yachts
Shrimp Boats
Tugs
Dredge Barges
Weekend Pleasure Boats
Sport Fishing Vessels
Marinas
Please contact a friendly Sun Coast fuel and lubricant specialist today for any questions about our marine fuel and lubricants delivery, or about any service that we provide.